The "Z" Team Featured Listings
Search Ventura Area Homes
Summer weekends at Harbor Village fill up with music thanks to Steel Drum Saturdays and Summer Sundays. But if you want something a little more substantial to feed your soul (and your belly), visit the Ventura County Fairgrounds this weekend for the Tequila and Taco Music Festival 2021. There will be music. There will be tacos. And, of course, there will be tequila!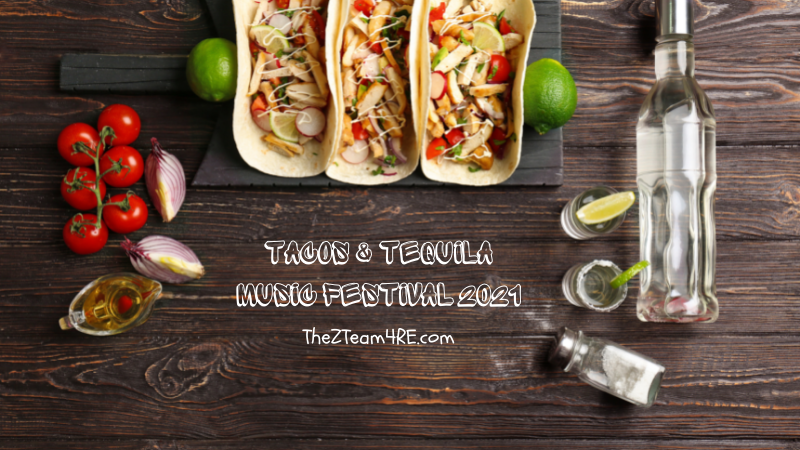 What: Tequila and Taco Music Festival 2021
Where: Ventura County Fairgrounds (10 E Harbor Blvd)
When: July 24th (1 pm to 9:30 pm) & July 25th (12 pm to 6:30 pm)
Admission: $20 per person or $35 for two
Tequila and Taco Music Festival 2021
Guests of the festival enjoy the chance to sample some of the best Top Shelf tequila around. Since you also need something in your belly to keep your spirits high while enjoying the alcohol, pair your tequila up with amazing gourmet street tacos. If you like your tequila in the form of margaritas, yes. Those will be made available to guests as well. Even if tequila or fruity margaritas are not to your liking, you will find beer vendors offering up craft beer, too. No one will be left out of the fun this weekend!
In addition to the tequila and tacos, arts and crafts vendors hawk their unique wares to guests. So make sure you visit vendor row. And no music festival will be complete without live music to keep things upbeat. Vanilla Ice, Tag Team, and Adelaide perform on Saturday. On Sunday, listen to bands perform their tributes to Latina artists, including the legendary Selena.
Ticket Info
You must be at least 21 years old with a valid photo ID to purchase and consume any alcohol on the premises. Tickets cost $17.50 each for General Admission each day. But, you can purchase the Margarita Experience. This provides you with entry for two people and two 12 oz margaritas in their own souvenir glasses. Kids ages 12 and under may enter free of charge. For more information, please visit the Tequila and Taco Music Festival's website here.
Dave & Pat Zumbrun, your Ventura County real estate specialists