The "Z" Team Featured Listings
Search Ventura Area Homes
In Ventura, you never worry about finding fun things to see and do. Of course, we saw fireworks shows all over Ventura County on July 4th. In August, we experienced a sort of revised Ventura County Fair with SummerFest 2021. Last month, the Ventura Art and Street Fair filled Ventura Harbor Village with beautiful artwork. This month, we celebrate all things "spooookkky" with the Seaside Skeleton Hunt.
What: Seaside Skeleton Hunt
Where: Ventura Harbor Village
When: October 30th & 31st, 2021
Contact: Ventura Harbor Village (805) 477-0470
Seaside Skeleton Hunt
Ventura Harbor Village hosts many family-friendly events throughout the year. October proves no exception. As part of the Halloween fun, they scheduled a skeleton hunt this month for all good little boils and ghouls. But these skeletons are not for scaring. Instead, they want you to flush them out of their hiding spaces and say hello. And the more skeletons you find, the better your chances become of winning a super Halloween prize pack from various vendors inside the Village. So, get out there and start this silly (weird?) game of hide-and-seek over Halloween weekend.
How to Play
Visit Ventura Harbor Village on October 30th and/or 31st. Keep your peepers open and on the lookout for skeletons hiding all over the village. Look all around the plaza, including the bushes and even the trash cans. When you find a skeleton, take a selfie with them. Upload the photos to your social media (Facebook, Instagram, Twitter). Make sure to include #SeasideSkeletons and tag @venturaharbor to ensure entry into their prize drawing. Also, make sure to set your social media profile to "public". Otherwise, event organizers will not see the post. Then, you miss your chance at a prize. Organizers encourage costume-wearing but do not require them. Just have fun! Good luck!
Dave & Pat Zumbrun, your Ventura County real estate specialists
Why wait until spring to clear out your home of unwanted junk? Not sure where to dispose of big things like furniture, appliances, and old mattresses? Sign up for the Ventura Community Clean Up & Recycling Day event. They dispose or recycle these things absolutely free of charge for all Ventura residents.
What: Ventura Community Clean Up & Recycling Day 2021
Where: 765 S Seward Ave, Ventura
When: Saturday, October 2nd, 2021 from 8:30 am to 11:30 am
Admission: Free for Ventura Residents
Contact: Rick Guzman, City of Ventura (805) 652-4525 or via email
Ventura Community Clean Up & Recycling Day 2021
Curbside trash pick-up only accepts certain household trash. Larger items must be taken to the dump. And that entails a fee as well as your time and a bit of elbow grease. Instead, take them to the City's Community Clean Up event on Saturday, October 2nd.
In an effort to keep the public's health secure at this time, you must pre-register for an appointment to drop off your items. Based on the condition of the item, it either gets recycled or disposed of properly. Unfortunately, they cannot accept tires at the Ventura Community Clean Up event. For that, you must go to Avenue Tire (617 N Ventura Ave) from 8 am to 12 pm on October 2nd. Limit of four tires per household. When you arrive, you must wear a face covering over your mouth and nose whenever interacting with on-site staff. While some staff may be able to help you unload, please be prepared to unload your own items if necessary.
Items Accepted
Appliances
Clothing
Furniture
Electronic Waste
Green Waste
Mattresses
Metal
Wood
Items Not Accepted
Aerosol cans
Adhesives
Batteries
Compressed Gas or Propane Tanks
Gasoline or motor oil
Household cleaners
Medications
Paint and paint-related items
Pool Chemicals
Ventura Light Bulb Swap
In keeping with the greener living topic, the City of Ventura also hosts a light bulb swap on Wednesday, October 6th. Swap out your old incandescent or CLF lights for more energy-efficient LED light bulbs no matter the size. Take your old bulbs (limit of five per household) to 336 Sanjon Rd between 5:30 pm and 7 pm on October 6th. In return, receive an LED 9-watt bulb (800 lumens) for each bulb exchanged. First, you must register for the event online. Then, bring proof of registration as well as proof of residency in the City of Ventura to the swap.
Dave & Pat Zumbrun, your Ventura County real estate specialists
Last weekend, Ventura area residents and visitors bid adieu to Summerfest. It may not have been the spectacle that the Ventura County Fair tends to be, but it still allowed everyone a chance to celebrate the season. On August 25th, students begin their new school year in Southern California. But that does not mean that summer is officially over yet. Enjoy one last hurrah with the Wings Over Camarillo 2021 air show.
What: Wings Over Camarillo 2021
Where: Camarillo Airport (555 Airport Way)
When: August 21st & 22nd, Gates Open at 9 am, Air Show Starts at 12 pm
Admission: $10 to $30 per day
Contact: Camarillo Wings Association (805) 419-3530 or via email
Wings Over Camarillo 2021
Organizers chose "Honoring Our Healthcare Workers" for this year's theme. How appropriate considering everything we have all gone through over the past year and a half. Some of the amazing aircraft guests get to see flying high above include a P-17 Stearman, AT-6/SNJ, and Judy Phelps, Sammy Mason, and Tommy Suell in their respective Pitts among others. Helicopter rides will also be available (for an additional fee) both before and after the air demos.
Arrive early and start your day with a delicious breakfast courtesy of the Ventura County Chapter Ninety-Nines. They serve breakfast until they run out (around 11 am normally) in the food court's West End. Dozens of classic cars also make an appearance at Wings Over Camarillo on both days of the event. Make sure you stop over at the veteran's hangar to speak to real-life heroes. Give these brave men and women your hearty thanks for their service. Plus, see some of the aircraft up close in their static display on the grounds. They truly are a sight to behold.
Ticket Info
This year, you must purchase your tickets to the air show online. They do not allow ticket sales at the gates. Unfortunately, VIP tickets already sold out. But you may still purchase general admission tickets online. Children ages 0 to 5 get in absolutely free of charge. Kids ages six to 16 cost $10 per person per day. Adults ages 17 and over cost $30 per person per day. Active military members receive a $10 discount with their military ID. You cannot enter the show without your pre-purchased tickets. Visit the Camarillo Wings Association's website to purchase your tickets today.
Dave & Pat Zumbrun, your Ventura County real estate specialists
Firework shows on the 4th of July. Tequila and Tacos the weekend before last. We seem to have enjoyed a bit of a return to normal here in California lately. Unfortunately, the Delta variant of COVID-19 put mask mandates back in place for everyone when indoors. Sadly, officials canceled the annual Ventura County Fair this year. But, visitors may satisfy their "fair tooth" with the Ventura SummerFest 2021 Carnival instead.
What: Ventura SummerFest 2021
Where: Ventura Fairgrounds (10 W Harbor Blvd)
When: Aug 4th to Aug 15th, 3 pm to 10 pm Mon through Fri, 12 pm to 10 pm Sat & Sun
Admission: Free (tickets required for carnival rides)
Ventura SummerFest 2021
If we cannot enjoy the Ventura County Fair this year, at least we get the next best thing…SummerFest! Sure, the size of the fair we are used to will not be happening. No cattle auction or exhibits this year. And the big baking and crafts competitions will not take place either. But the heart of the fair lives on. Guests get to enjoy carnival rides and games as well as the amazing fair food usually reserved for things like the county fair. And that's what most of us go to the fair for anyway, right?
Ticket Info
Parking runs $15 per vehicle. But it costs you nothing to enter into SummerFest. If you wish to ride the carnival rides, you must pay for tickets. The amount of tickets required varies from ride to ride (anywhere from three to eight each). Tickets cost $1 each. Or you may purchase them in bulk at $20 for 24. But if you go to Kastl Amusements' online box office before midnight on August 3rd, you may purchase them at a huge discount of 40 ride tickets for just $25. You receive a 37.5% discount off the regular price of a ticket this way. That means more money for fair food! Yay!
Dave & Pat Zumbrun, your Ventura County real estate specialists
Summer weekends at Harbor Village fill up with music thanks to Steel Drum Saturdays and Summer Sundays. But if you want something a little more substantial to feed your soul (and your belly), visit the Ventura County Fairgrounds this weekend for the Tequila and Taco Music Festival 2021. There will be music. There will be tacos. And, of course, there will be tequila!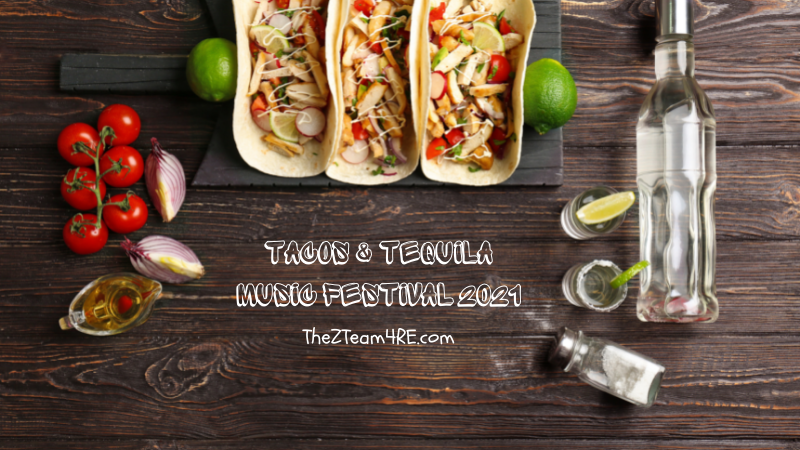 What: Tequila and Taco Music Festival 2021
Where: Ventura County Fairgrounds (10 E Harbor Blvd)
When: July 24th (1 pm to 9:30 pm) & July 25th (12 pm to 6:30 pm)
Admission: $20 per person or $35 for two
Tequila and Taco Music Festival 2021
Guests of the festival enjoy the chance to sample some of the best Top Shelf tequila around. Since you also need something in your belly to keep your spirits high while enjoying the alcohol, pair your tequila up with amazing gourmet street tacos. If you like your tequila in the form of margaritas, yes. Those will be made available to guests as well. Even if tequila or fruity margaritas are not to your liking, you will find beer vendors offering up craft beer, too. No one will be left out of the fun this weekend!
In addition to the tequila and tacos, arts and crafts vendors hawk their unique wares to guests. So make sure you visit vendor row. And no music festival will be complete without live music to keep things upbeat. Vanilla Ice, Tag Team, and Adelaide perform on Saturday. On Sunday, listen to bands perform their tributes to Latina artists, including the legendary Selena.
Ticket Info
You must be at least 21 years old with a valid photo ID to purchase and consume any alcohol on the premises. Tickets cost $17.50 each for General Admission each day. But, you can purchase the Margarita Experience. This provides you with entry for two people and two 12 oz margaritas in their own souvenir glasses. Kids ages 12 and under may enter free of charge. For more information, please visit the Tequila and Taco Music Festival's website here.
Dave & Pat Zumbrun, your Ventura County real estate specialists
The CDC recently released their latest mask guidelines for fully vaccinated individuals. However, Governor Newsom has not released an update to California's mask guidelines as of yet. So, some businesses may require you to wear a mask when you enter. Even so, our beautiful sunny weather makes it a great time to be outdoors. And if you missed attending things like an open air market, the fairgrounds hosts the Ventura Open Air Seaside Market on the last two Sundays of May.
What: Ventura Open Air Seaside Market 2021
Where: Ventura Fairgrounds (10 W Harbor Blvd)
When: Sunday, May 23rd & 30th, from 10:30 am to 4 pm
Admission: Free (parking $10)
Contact: Ventura Fairgrounds (805) 648-3376
Ventura Open Air Seaside Market 2021
Graduation. Birthdays. Anniversaries. Father's Day. Just because. Or maybe just a little something for yourself. Looking for something unique to give your loved ones? Find something for everyone on your list at the Open Air Seaside Market this Sunday and next. Dozens of local artists and vendors showcase their handmade jewelry, artwork, crafts, and more at the market. Pick up something beautiful for your Ventura home. Find out how to create a gorgeous landscape to make your curb appeal pop. Discover how to make small changes to improve your life overall.
Music keeps everyone entertained throughout the afternoon. Choose something to eat from one of several food trucks on-site. Then, take your food to a shaded area to eat it in comfort. All guests must wear their masks while at the fairgrounds. The only exception is when you are eating or drinking.
Ventura Waterfront Chalk Art
The Open Air Seaside Market is one fun thing to do over Memorial weekend. Another family-friendly event you might want to attend is the Ventura Waterfront Chalk Art display at Ventura Harbor Village. From 12 pm to 5 pm on Saturday, May 29th, local artist Randall Williams creates an artistic masterpiece using only chalk on the sidewalk outside of Le Petit Cafe. Watch him work live as he memorializes those we lost while serving their country.
Dave & Pat Zumbrun, your Ventura County real estate specialists
Buying your first house may leave you feeling overwhelmed. Before you search for a Ventura home you love, you must find a real estate agent you trust, save for a down payment and closing costs, get approved for a loan, and make sure you are ready for the first year of homeownership. The CalHFA helps homebuyers in California purchase their first home.
California Housing Finance Agency (CalHFA)
Requirements to Qualify
To even be considered for one of California Housing Finance Agency's loans, buyers must meet certain requirements. First, you must be a first-time homebuyer. That means that you either never owned a home before or you have not owned one in the previous three years. Secondly, your credit score below 660 (for conventional low-income rate) or 680 (for conventional standard rate). Then, your debt-to-income ratio must not exceed 43% to 45%, depending on the type of underwriting used. CalHFA puts an income cap on loan applicants depending on where they wish to purchase a home. Only US citizens, permanent residents, or qualified aliens may apply. Finally, all applicants must attend and complete a home-buying course.
Property Qualifications
In order for a property to qualify for a CalHFA loan, it needs to meet certain requirements. First, the sale price cannot exceed $765,000. Next, it must be located within the California state limits. Also, it must be the buyer's primary residence. Finally, they only allow single-family homes on no more than five acres of land. In some cases, a condo, guest home, or manufactured home may qualify.
Types of Loans Offered
CalHFA FHA Program – 30-year fixed-rate loan. Must meet FHA's requirements as well.
CalPLUS FHA Program – Slightly higher rate than a regular FHA loan but can be combined with other assistance programs.
CalFHA VA Program – 30-year fixed-rate loan for current and former members of the military. Must meet VA's requirements as well.
CalFHA Conventional Program – 30-year fixed-rate loan that includes PMI.
CalPLUS Conventional Program – Also a slightly higher rate than a regular conventional loan but can be combined with other assistance programs.
Dave & Pat Zumbrun, your Ventura County real estate specialists
It seems like we battle wildfires here in California every single year. Our dry weather makes us vulnerable to these. Now that temperatures have begun to warm up, our chances of wildfires increases. To help protect your Ventura home as well as those of your neighbors, the City created a Ventura Fire Hazard Reduction Plan.
Ventura Fire Hazard Reduction Plan (FHRP)
Earlier this month, Ventura sent out letters to over 6500 homeowners outlining their Fire Hazard Reduction Plan. The City gives these homeowners until May 18th to clear up their property. The plan breaks down fire hazard reduction into two zones. Zone 1 focuses on the residence and the surrounding area up to 30 feet from it in all directions. Zone 2 extends from 30 feet out to 100 feet (or the property line, whichever falls closer).
Zone 1 FHRP
The City's Fire Hazard Reduction Plan for Zone 1 calls for clearing out the chimney and roof of any flammable debris. Homeowners must also clear leaves, dead vegetation, and other debris around and under the residence (decks, patios, etc.). Limit ground cover and shrubs to groupings no larger than 10 feet in diameter and spaced at least five feet from other groupings. Keep wood piles more than 30 feet from your residence.
Zone 2 FHRP
To continue to protect each resident's property, the FHRP continues into Zone 2 (30 to 100 feet around the main residence). Grass needs to be no longer than 4″. Clear any limbs within five feet of the ground or at least one-third of its height for any trees, shrubs, or hedges more than six feet tall. Any piles of wood must maintain a 10-foot clearance from any other shrubbery, trees, or ground cover. In other words, clear a 10-foot perimeter around each wood pile down to the dirt. Ground cover and shrubs must also be spaced at least five feet from other groupings. Dispose of any dead or dying wood.
Miscellaneous
Remove and dispose of stumps. Keep fire hydrants clear of any vegetation or debris within three feet of it. Install a metal screen around chimneys and stovepipe openings that includes at 3/8″ to 1/2″ openings to prevent large debris from flying out. Finally, install numbers on your residence that can be easily seen from the street. This makes it easier for emergency vehicles to identify/locate homes.
As long as we all do our part, we stand a much better chance of making it through wildfire season relatively unscathed. For more information about the Ventura Fire Hazard Reduction Plan, please download a copy of the plan here.
Dave & Pat Zumbrun, your Ventura County real estate specialists
Today's Ventura homebuyer looks for a good home office space (among other things) inside a property. But they also appreciate a nice outdoor living area. After all, being stuck inside our homes for most of 2020 really showed us that we need as much space as possible. Thankfully, Southern California weather permits outdoor living pretty much year-round. If you want to appeal to buyers in the future, consider incorporating some of these outdoor living space ideas.
Outdoor Living Space Ideas
A Cozy Firepit
As the evening cools off, people enjoy spending time around a roaring fire. Roasting marshmallows. Swapping stories. In general, spending time with each other outside of a viewing screen. In fact, people craved this so much last year that firepits sold out well before fall came in. Think about adding a firepit to your outdoor living space that includes comfy seating for several people around it. After all, things are starting to open up again. And when it does, you know that you will want to invite people over to entertain.
Install a Second Kitchen
Speaking of entertaining, a second kitchen is another outdoor living space idea to consider. A simple barbecue is fine. But for really entertaining, you need an entire kitchen. This should include a nice grill and (possibly) a smoker. Gas hookups, a refrigerator/freezer, and even a sink will make your Ventura home the envy of the neighborhood. Plus, it keeps your kitchen from heating up during those hot summer days.
Swimming Pool
Another part of outdoor living space in Southern California is a swimming pool. They do not have to be six or eight feet deep either. A nice lap pool still allows you to exercise or simply cool off when temperatures hit those high notes. And make sure there is plenty of shaded seating area around the pool, too.
Storage Shed
We all could use as much storage as possible. Keep clutter at bay by installing a storage shed. This gives you extra room to store away tools, lawnmowers, bicycles, and other yard implements out of sight. Buyers love to see additional storage already added to a property.
Water Features
Water features always feel inviting in an outdoor living space. They can be added onto a wall or included as a stand-alone feature. Kits to create your own unique water feature can be found at most home improvement stores or online.
Updated/Extra Lighting
An outdoor living space is meant to be enjoyed both day and night. Therefore, you need to make sure your lighting is up to par. Colored lights help set a mood. Garden lights add soft light throughout the backyard. Consider utilizing eco-friendly solar lights to help light up your walkways in the backyard as well.
Don't Forget the Front Porch
Finally, do not forget about your front porch. It is also an outdoor living space. Spruce it up with padded seats, plants, and a lovely water feature. And always makes sure it is adequately lit at night.
Dave & Pat Zumbrun, your Ventura County real estate specialists