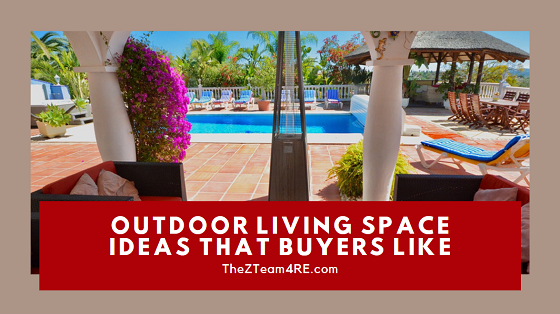 Today's Ventura homebuyer looks for a good home office space (among other things) inside a property. But they also appreciate a nice outdoor living area. After all, being stuck inside our homes for most of 2020 really showed us that we need as much space as possible. Thankfully, Southern California weather permits outdoor living pretty much year-round. If you want to appeal to buyers in the future, consider incorporating some of these outdoor living space ideas.
Outdoor Living Space Ideas
A Cozy Firepit
As the evening cools off, people enjoy spending time around a roaring fire. Roasting marshmallows. Swapping stories. In general, spending time with each other outside of a viewing screen. In fact, people craved this so much last year that firepits sold out well before fall came in. Think about adding a fire pit to your outdoor living space that includes comfy seating for several people around it. After all, things are starting to open up again. And when it does, you know that you will want to invite people over to entertain.
Install a Second Kitchen
Speaking of entertaining, a second kitchen is another outdoor living space idea to consider. A simple barbecue is fine. But for really entertaining, you need an entire kitchen. This should include a nice grill and (possibly) a smoker. Gas hookups, a refrigerator/freezer, and even a sink will make your Ventura home the envy of the neighborhood. Plus, it keeps your kitchen from heating up during those hot summer days.
Swimming Pool
Another part of outdoor living space in Southern California is a swimming pool. They do not have to be six or eight feet deep either. A nice lap pool still allows you to exercise or simply cool off when temperatures hit those high notes. And make sure there is plenty of shaded seating area around the pool, too.
Storage Shed
We all could use as much storage as possible. Keep clutter at bay by installing a storage shed. This gives you extra room to store away tools, lawnmowers, bicycles, and other yard implements out of sight. Buyers love to see additional storage already added to a property.
Water Features
Water features always feel inviting in an outdoor living space. They can be added to a wall or included as a stand-alone feature. Kits to create your own unique water feature can be found at most home improvement stores or online.
Updated/Extra Lighting
Outdoor living space is meant to be enjoyed both day and night. Therefore, you need to make sure your lighting is up to par. Colored lights help set a mood. Garden lights add soft light throughout the backyard. Consider utilizing eco-friendly solar lights to help light up your walkways in the backyard as well.
Don't Forget the Front Porch
Finally, do not forget about your front porch. It is also an outdoor living space. Spruce it up with padded seats, plants, and a lovely water feature. And always makes sure it is adequately lit at night.
Dave & Pat Zumbrun, your Ventura County real estate specialists
Outdoor Living Space Ideas That Buyers Like