The "Z" Team Featured Listings
Search Ventura Area Homes
When you're getting ready to list your home, it's of the utmost importance to ensure you are showing it in the best light. Taking time to highlight its strengths and repair some of its possible weaknesses can make a big difference in how fast it sells. Here are our top four recommended repairs to make before selling your Ventura home.
What to Repair Before You List Your Ventura Home
Repaint Walls
Giving your Ventura home a fresh coat of paint is one of the most cost-effective ways to spruce it up, and generally, it can be a do-it-yourself project. Make sure to cover any walls with scratches and chips and consider updating any accent walls with a more neutral coat.
Repair Floors
Hardwood floors are a very desirable feature in a Ventura home, so you want to ensure they look their best by fixing scratches or dull areas. If your carpet is worn or stained, consider replacing them. And don't forget the tile in your kitchen or bathrooms. Re-grouting can go a long way in making dingy tile work look brand new!
Refresh the Landscaping
Show buyers your Ventura home is the full package by dressing up the outside as well as the in. Clean walkways and driveways, plant seasonal flowers and plants, trim hedges and trees, install outdoor décor pieces, and fill in mulch and gravel.
Fix your Fixtures
Leaky faucet? Rusted drains? Loose drawer handle? Making these small fixes can make a big difference to potential buyers with detailed-orientated minds. Improve your kitchen. An outdated kitchen can be a real eyesore in a home. Updating cabinetry, repairing or replacing countertops, and installing new faucets and sinks may be worth the investment.
Real estate in Ventura County tends to slow down a little during the holidays. People tend to focus their efforts on Christmas shopping, spending time with family, and holiday parties. We hit our hottest time in spring. But that does not mean that buyers refuse to look for homes during the winter. In fact, the ones looking for properties right now are very serious home buyers. Follow these simple winter home selling tips if you want to sell your home soon.
Winter Home Selling Tips
Keep Holiday Decorations to a Minimum
Many people enjoy decorating for the holidays. Even though you put your Ventura home on the market during the winter time, you can still decorate. Just keep things simple and minimal. Instead of looking like Santa's North Pole toy shop, add a few natural elements here and there instead. Cinnamon-scented pine cones in a crystal bowl. A few twigs of holly and candles on the mantel. A pretty wreath hanging on the front door. All of these let you to celebrate the season without turning buyers away. Plus, it allows buyers to still see the beauty your home offers.
Curb Appeal Matters
Sometimes, people focus all of their attention on the inside of the home. They may forget their outdoor space. You want to impress potential buyers from the moment they pull up to your residence. Keep your curb appeal on point. Trim the yard and shrubbery. Touch up paint where needed. Clean up the front porch. Add a new welcome mat on the outside and a clean indoor mat on the inside. This stops dirt from tracking inside your home. Update light fixtures and doorknob, if necessary. Keep walkways and driveways clear of clutter and debris.
Add Light
Natural light always looks best. But even in Southern California, winter skies sometimes turn gray. Another one of our winter home selling tips you should follow includes adding light both inside and out. That means higher wattage bulbs outside. Inside, it could mean adding a lamp or two to darker rooms. Plus, before any showing, open up all window coverings and turn on every single light in every room and closet. Not only does this brighten up the rooms, but it minimizes any need to touch surfaces in your Ventura home. During the age of COVID, that can be extra important.
Price it Right
Finally, listen to your REALTOR® when they suggest a list price for your Ventura home. You might believe your home's value lies in a much higher range than the current market dictates. If you list it too high, it might take much longer to sell. Additionally, you run the risk of requiring a downward price adjustment (sometimes several) before finding a buyer. But if you price it right to start off with, you can get it sold much faster.
From our family to yours, Merry Christmas and Happy New Year!
Dave & Pat Zumbrun, your Ventura County real estate specialists
Thanksgiving may be over, but the spirit of giving should never end. We only have 19 days until we celebrate Christmas Day. While you run around conducting your errands for Christmas dinner, add a few extra items to your grocery cart. Then, consider donating them to one of the Ventura food pantries. Your heart fills with joy when helping others. A couple of other ways to get you into the Christmas spirit could be going to see the Ventura Tree Lighting or watching the Parade of Lights.
Ventura Tree Lighting
This Friday, December 10th, Downtown Ventura lights up the Christmas tree located right outside of the Mission. Starting at 6 pm, gather 'round the tree. At dusk, they flip the switch on the lights. I hear that Santa promises to make an appearance around 7 pm. But he can only stay for an hour. He is a very busy man this time of year after all. And whoever said it never snows in Southern California may find themselves proven wrong. I believe Santa brings a bit of North Pole snow with him as well.
Ventura Harbor Parade of Lights
On the following weekend (December 17th and 18th), Ventura Harbor invites the public to join in some merry festivities. Starting at 4 pm each night, play fun carnival games and let the kids enjoy a few rides on the main lawn of Ventura Harbor Village. At 5:30 pm, watch the snow fall as LED performers light up the Harbor Village Promenade. At 6:30 pm, the Boat Parade of Lights begins, making two laps around Ventura Harbor. Then, as long as the weather holds out, guests will be treated to a fireworks display above the harbor at 8 pm. All events provided free of charge (as well as the parking).
Dave & Pat Zumbrun, your Ventura County real estate specialists
Next week, we celebrate Thanksgiving. For many, this means gathering with our families, sharing a meal, and counting the blessings bestowed upon us over the past year. Unfortunately, not everyone has the luxury of either family or food on the table. According to Food Share Ventura, one in six people in Ventura County experiences food insecurity. That means, more likely than not, you know of someone in this situation. One way to show how grateful you are this holiday season is to donate to local Ventura food pantries.
Ventura Food Pantries Welcome Holiday Donations
The holidays can be a particularly rough time for some people. When you go shopping, consider adding a few extra items to your cart. Then, donate them to a local food pantry. In turn, these pantries make sure that the goods are passed out to those in need in our community. Also, while food pantries see an increase in donations during the holidays, they want to remind everyone that we all need to eat every single day of the year. So, please consider making regular donations throughout the rest of the year as well. For specific requests and hours of donation drop-off, please contact the particular food pantry you wish to donate to below.
What to Donate
Beans – canned
Fish (tuna, sardines, salmon, etc.) – canned
Fruit – canned
Milk – shelf-stable
Pasta
Pasta sauce – cans or plastic containers, not glass jars
Peanut Butter
Rice – brown, white, jasmine, etc.
Soup – canned or boxed
Stew – canned
Vegetables – canned
Keep in mind that most pantries do not accept food items in glass jars or expired goods. However, some (not all) pantries do accept fresh produce and dairy. Contact the food pantry ahead of time to see what they accept and what they request that you leave off your donation list.
Ventura Food Pantry Locations
Candelaria American Indian – 1650 Palma Dr. (805) 650-8352
Catholic Charities Ventura – 303 N. Ventura Ave. (805) 643-4694
Community Presbyterian Church – 1555 Poli St. (805) 648-2737
Family to Family – 303 N. Ventura Ave. (805) 658-2610
Kids & Families Together – 856 E Thompson Rd. (805) 643-1446
Project Understanding – 2734 Johnson Dr. (805) 652-1326
Salvation Army – 155 Oak St. (805) 648-5032
Seventh Day Adventist Ventura – 6300 Telephone Rd. (805) 642-5387
Temple Beth Torah – 7620 Foothill Blvd. (805) 647-4181
Share your blessings. Donate today.
Dave & Pat Zumbrun, your Ventura County real estate specialists
In Ventura, you never worry about finding fun things to see and do. Of course, we saw fireworks shows all over Ventura County on July 4th. In August, we experienced a sort of revised Ventura County Fair with SummerFest 2021. Last month, the Ventura Art and Street Fair filled Ventura Harbor Village with beautiful artwork. This month, we celebrate all things "spooookkky" with the Seaside Skeleton Hunt.
What: Seaside Skeleton Hunt
Where: Ventura Harbor Village
When: October 30th & 31st, 2021
Contact: Ventura Harbor Village (805) 477-0470
Seaside Skeleton Hunt
Ventura Harbor Village hosts many family-friendly events throughout the year. October proves no exception. As part of the Halloween fun, they scheduled a skeleton hunt this month for all good little boils and ghouls. But these skeletons are not for scaring. Instead, they want you to flush them out of their hiding spaces and say hello. And the more skeletons you find, the better your chances become of winning a super Halloween prize pack from various vendors inside the Village. So, get out there and start this silly (weird?) game of hide-and-seek over Halloween weekend.
How to Play
Visit Ventura Harbor Village on October 30th and/or 31st. Keep your peepers open and on the lookout for skeletons hiding all over the village. Look all around the plaza, including the bushes and even the trash cans. When you find a skeleton, take a selfie with them. Upload the photos to your social media (Facebook, Instagram, Twitter). Make sure to include #SeasideSkeletons and tag @venturaharbor to ensure entry into their prize drawing. Also, make sure to set your social media profile to "public". Otherwise, event organizers will not see the post. Then, you miss your chance at a prize. Organizers encourage costume-wearing but do not require them. Just have fun! Good luck!
Dave & Pat Zumbrun, your Ventura County real estate specialists
Why wait until spring to clear out your home of unwanted junk? Not sure where to dispose of big things like furniture, appliances, and old mattresses? Sign up for the Ventura Community Clean Up & Recycling Day event. They dispose or recycle these things absolutely free of charge for all Ventura residents.
What: Ventura Community Clean Up & Recycling Day 2021
Where: 765 S Seward Ave, Ventura
When: Saturday, October 2nd, 2021 from 8:30 am to 11:30 am
Admission: Free for Ventura Residents
Contact: Rick Guzman, City of Ventura (805) 652-4525 or via email
Ventura Community Clean Up & Recycling Day 2021
Curbside trash pick-up only accepts certain household trash. Larger items must be taken to the dump. And that entails a fee as well as your time and a bit of elbow grease. Instead, take them to the City's Community Clean Up event on Saturday, October 2nd.
In an effort to keep the public's health secure at this time, you must pre-register for an appointment to drop off your items. Based on the condition of the item, it either gets recycled or disposed of properly. Unfortunately, they cannot accept tires at the Ventura Community Clean Up event. For that, you must go to Avenue Tire (617 N Ventura Ave) from 8 am to 12 pm on October 2nd. Limit of four tires per household. When you arrive, you must wear a face covering over your mouth and nose whenever interacting with on-site staff. While some staff may be able to help you unload, please be prepared to unload your own items if necessary.
Items Accepted
Appliances
Clothing
Furniture
Electronic Waste
Green Waste
Mattresses
Metal
Wood
Items Not Accepted
Aerosol cans
Adhesives
Batteries
Compressed Gas or Propane Tanks
Gasoline or motor oil
Household cleaners
Medications
Paint and paint-related items
Pool Chemicals
Ventura Light Bulb Swap
In keeping with the greener living topic, the City of Ventura also hosts a light bulb swap on Wednesday, October 6th. Swap out your old incandescent or CLF lights for more energy-efficient LED light bulbs no matter the size. Take your old bulbs (limit of five per household) to 336 Sanjon Rd between 5:30 pm and 7 pm on October 6th. In return, receive an LED 9-watt bulb (800 lumens) for each bulb exchanged. First, you must register for the event online. Then, bring proof of registration as well as proof of residency in the City of Ventura to the swap.
Dave & Pat Zumbrun, your Ventura County real estate specialists
Last weekend, Ventura area residents and visitors bid adieu to Summerfest. It may not have been the spectacle that the Ventura County Fair tends to be, but it still allowed everyone a chance to celebrate the season. On August 25th, students begin their new school year in Southern California. But that does not mean that summer is officially over yet. Enjoy one last hurrah with the Wings Over Camarillo 2021 air show.
What: Wings Over Camarillo 2021
Where: Camarillo Airport (555 Airport Way)
When: August 21st & 22nd, Gates Open at 9 am, Air Show Starts at 12 pm
Admission: $10 to $30 per day
Contact: Camarillo Wings Association (805) 419-3530 or via email
Wings Over Camarillo 2021
Organizers chose "Honoring Our Healthcare Workers" for this year's theme. How appropriate considering everything we have all gone through over the past year and a half. Some of the amazing aircraft guests get to see flying high above include a P-17 Stearman, AT-6/SNJ, and Judy Phelps, Sammy Mason, and Tommy Suell in their respective Pitts among others. Helicopter rides will also be available (for an additional fee) both before and after the air demos.
Arrive early and start your day with a delicious breakfast courtesy of the Ventura County Chapter Ninety-Nines. They serve breakfast until they run out (around 11 am normally) in the food court's West End. Dozens of classic cars also make an appearance at Wings Over Camarillo on both days of the event. Make sure you stop over at the veteran's hangar to speak to real-life heroes. Give these brave men and women your hearty thanks for their service. Plus, see some of the aircraft up close in their static display on the grounds. They truly are a sight to behold.
Ticket Info
This year, you must purchase your tickets to the air show online. They do not allow ticket sales at the gates. Unfortunately, VIP tickets already sold out. But you may still purchase general admission tickets online. Children ages 0 to 5 get in absolutely free of charge. Kids ages six to 16 cost $10 per person per day. Adults ages 17 and over cost $30 per person per day. Active military members receive a $10 discount with their military ID. You cannot enter the show without your pre-purchased tickets. Visit the Camarillo Wings Association's website to purchase your tickets today.
Dave & Pat Zumbrun, your Ventura County real estate specialists
Firework shows on the 4th of July. Tequila and Tacos the weekend before last. We seem to have enjoyed a bit of a return to normal here in California lately. Unfortunately, the Delta variant of COVID-19 put mask mandates back in place for everyone when indoors. Sadly, officials canceled the annual Ventura County Fair this year. But, visitors may satisfy their "fair tooth" with the Ventura SummerFest 2021 Carnival instead.
What: Ventura SummerFest 2021
Where: Ventura Fairgrounds (10 W Harbor Blvd)
When: Aug 4th to Aug 15th, 3 pm to 10 pm Mon through Fri, 12 pm to 10 pm Sat & Sun
Admission: Free (tickets required for carnival rides)
Ventura SummerFest 2021
If we cannot enjoy the Ventura County Fair this year, at least we get the next best thing…SummerFest! Sure, the size of the fair we are used to will not be happening. No cattle auction or exhibits this year. And the big baking and crafts competitions will not take place either. But the heart of the fair lives on. Guests get to enjoy carnival rides and games as well as the amazing fair food usually reserved for things like the county fair. And that's what most of us go to the fair for anyway, right?
Ticket Info
Parking runs $15 per vehicle. But it costs you nothing to enter into SummerFest. If you wish to ride the carnival rides, you must pay for tickets. The amount of tickets required varies from ride to ride (anywhere from three to eight each). Tickets cost $1 each. Or you may purchase them in bulk at $20 for 24. But if you go to Kastl Amusements' online box office before midnight on August 3rd, you may purchase them at a huge discount of 40 ride tickets for just $25. You receive a 37.5% discount off the regular price of a ticket this way. That means more money for fair food! Yay!
Dave & Pat Zumbrun, your Ventura County real estate specialists
Summer weekends at Harbor Village fill up with music thanks to Steel Drum Saturdays and Summer Sundays. But if you want something a little more substantial to feed your soul (and your belly), visit the Ventura County Fairgrounds this weekend for the Tequila and Taco Music Festival 2021. There will be music. There will be tacos. And, of course, there will be tequila!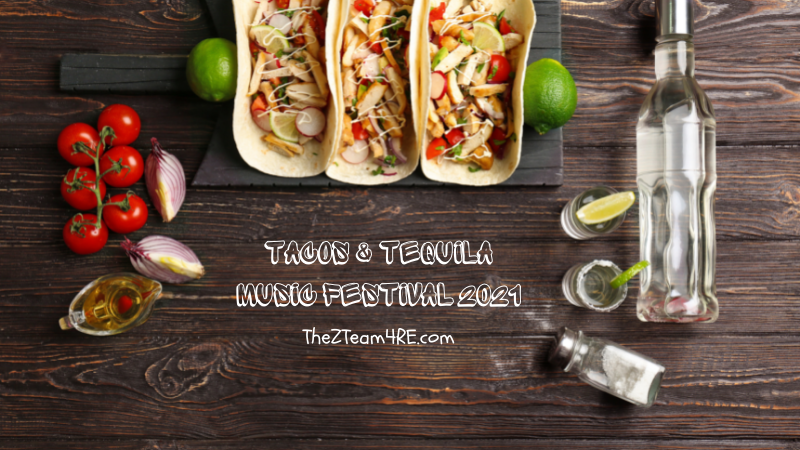 What: Tequila and Taco Music Festival 2021
Where: Ventura County Fairgrounds (10 E Harbor Blvd)
When: July 24th (1 pm to 9:30 pm) & July 25th (12 pm to 6:30 pm)
Admission: $20 per person or $35 for two
Tequila and Taco Music Festival 2021
Guests of the festival enjoy the chance to sample some of the best Top Shelf tequila around. Since you also need something in your belly to keep your spirits high while enjoying the alcohol, pair your tequila up with amazing gourmet street tacos. If you like your tequila in the form of margaritas, yes. Those will be made available to guests as well. Even if tequila or fruity margaritas are not to your liking, you will find beer vendors offering up craft beer, too. No one will be left out of the fun this weekend!
In addition to the tequila and tacos, arts and crafts vendors hawk their unique wares to guests. So make sure you visit vendor row. And no music festival will be complete without live music to keep things upbeat. Vanilla Ice, Tag Team, and Adelaide perform on Saturday. On Sunday, listen to bands perform their tributes to Latina artists, including the legendary Selena.
Ticket Info
You must be at least 21 years old with a valid photo ID to purchase and consume any alcohol on the premises. Tickets cost $17.50 each for General Admission each day. But, you can purchase the Margarita Experience. This provides you with entry for two people and two 12 oz margaritas in their own souvenir glasses. Kids ages 12 and under may enter free of charge. For more information, please visit the Tequila and Taco Music Festival's website here.
Dave & Pat Zumbrun, your Ventura County real estate specialists