Who watched the fireworks in Ventura County this weekend? They were glorious! It is nice to see a return to some sort of normalcy here in California. Is homeownership next up on your agenda? Oxnard made Forbes' list of the hottest markets in California. But, really, we have seen prices reach record highs all over Ventura County these past few months. Finding a home is one thing. Avoiding falling out of escrow is another thing entirely.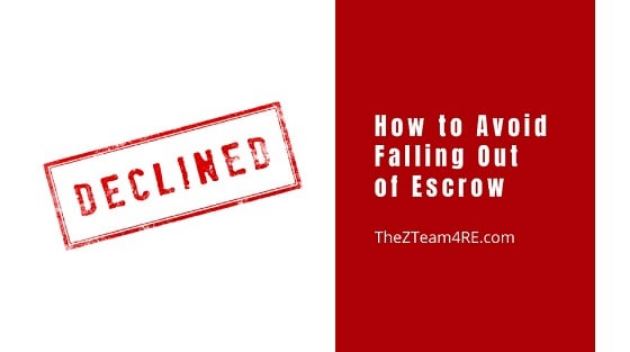 How to Avoid Falling Out of Escrow
Keeping Your Escrow on Track
Part of the home sale process includes a home inspection. This offers buyers a realistic look at the condition of a property, warts and all. Sometimes, the inspector may find minor issues. Other times, an inspector may find major issues. At that point, a buyer can choose to either re-negotiate repairs and/or the sale price or decide to walk away. Talk to your Ventura REALTOR® about your options. In turn, let them contact the seller's agent about lowering the price or offering discounts to compensate for the cost of repairs. It never hurts to ask.
Keep Spending in Check
Another way to avoid falling out of escrow is to keep your spending in check. Loan approval is just one of many steps in the home buying process. Just before final approval (near closing), the loan company runs another credit check. If you got so excited that you spent money on new furniture, accessories, a patio set, and other items for your new Ventura home, that all affects your credit. For buyers whose scores fell just above the minimum originally, this extra spending could easily send you below your minimum credit score. When that happens, loan companies decline final approval. Then, you lose the house. Declare a moratorium on any major purchases (including new vehicles) until after you sign your final documents and receive your new house keys.
What Documents to Expect at Your Close of Escrow – Closing Doc Checklist
Finally, make sure you bring all the documents required to the closing table. Otherwise, you risk delaying your close or possibly falling out of escrow.
Photo ID (driver's license, passport, government-issued ID)
Homeowner's Insurance proof
Sales contract
Inspection reports Bank check in the amount of final closing costs (contact lender if unsure of amount)
Signed power of attorney if your co-applicant will not be present at signing
Any other paperwork your lender requires (contact lender for complete list)
Dave & Pat Zumbrun, your Ventura County real estate specialists
How to Avoid Falling Out of Escrow