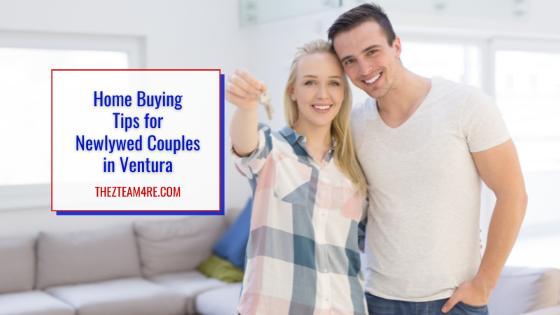 According to wedding blog Maroo, California couples pay an average of $39,000 for their wedding. If buying a Ventura home falls next on your list, you need to save up even more money. For an $800,000 home, that means saving anywhere from $24,000 to $160,000 for your down payment alone. Tack on another 3% to 6% of the sale price for closing costs. That may feel a bit overwhelming. Keep these home buying tips in mind before you start looking for your newlywed pad for a smooth, successful transaction.
Home Buying Tips for Newlywed Couples in Ventura
What's the Score?
Most lenders look for a credit score of at least 620 from their borrowers. This is the bottom line for a reasonable rate. However, scores of 740 or higher grant you access to the best terms and interest rates. So, you and your significant other need to have an honest and frank conversation about your scores. Lenders use the lower credit score of the applicants when determining terms and rates.
Can You Qualify With Just One Buyer?
Another one of the home buying tips that may help newlyweds obtain their first home together is to just use one person on the application. If one spouse's credit score falls below acceptable levels for lenders, you might want to consider only using the spouse with the higher credit score as the applicant. As long as the higher scoring spouse qualifies for the loan on their own, you could still end up with the Ventura home of your dreams. It may mean putting more money down or paying off certain outstanding debt. However, this does not mean that only one spouse will be the legal owner. Title determines ownership, not who pays the mortgage. So, both spouses may be named as owners on the title even when only one name appears on the mortgage.
What are Your Goals for This House?
In other words, what do you really need this house to accomplish for you? Will it just be the first home on your homeownership journey? Or will this be the one home you live in for the rest of your life? Do you plan on raising children here? Will any of your parents become inhabitants as they age? The answer to these questions informs how much house you truly need. It also keeps you focused on your end goals. Remember to factor in taxes, maintenance expenses, and insurance costs when figuring out your budget, too.
Super Low Rates Can be Red Flags
The next one of the home buyer tips I have to offer may sound counterproductive. Watch out for super low rates. Wait, Dave and Pat. You're telling me that extra-low interest rates are a bad thing? Well, when they come with lots of hidden fees they can be. Read over your lender's disclosure documents carefully. Ask about any late payment fee or early payoff penalties. While late payment fees are normal, outlandishly high fees are not.
Is an Investment Property in the Cards?
Finally, you might want to consider buying an investment property. Were you able to save a good chunk of money to put down on a Ventura property? Look to the future and consider purchasing a duplex. Or consider a property that includes an accessory dwelling unit such as a guest house, mother-in-law quarters, etc. While you live in one part of the property, you can rent out the other portion. This income helps pay off your mortgage sooner. Plus, it adds another dimension to your investment portfolio, securing a well-cared-for future.
When you decide that you want to become co-owners in your own piece of the American dream, contact us. We would be happy to find you exactly what you are looking for. Congratulations!
Dave & Pat Zumbrun, Your Ventura County real estate specialists
Home Buying Tips for Newlywed Couples in Ventura