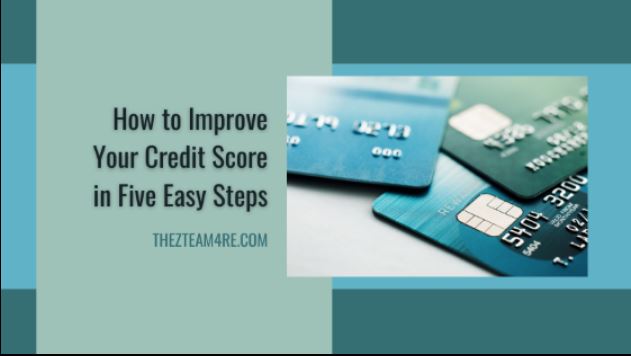 If buying a new Ventura area home sits atop your 2022 "to do" list, you need to make sure you get your credit in order first. The higher your credit score, the better your interest rate. It might take some time to get your credit in good shape. Here are a few simple steps you can take to improve your credit score before you start looking for your next Ventura home.
Improve Your Credit Score
1 – Pull Your Credit Report
There are three primary credit reporting agencies: Experian, TransUnion, and Equifax. Not all creditors report your info to all three agencies. Each agency may receive different information to determine your score. Therefore, you may see vast differences in your score between the three. Lenders tend to use the middle score for mortgage loans. Since they vary, you need to make sure that the information contained in each report is true. Legally, you may ask for one report from each agency every 12 months. Visit AnnualCreditReport.com to obtain your free report for each. Check each report for errors. If you find any, contact the creditor as well as the agency with the inaccurate information. Disputing errors takes time. Start this process right away.

2 – Pay Off (Some) Collection Accounts
Sometimes, paying off collection accounts helps. Sometimes, though, it does not. While paying off newer collection accounts may do nothing to improve your credit score, it could make you look stronger to lenders. Older collections may not be worth it. Talk to your lender about which scenario you fit into. When paying off a collection account, go to the original creditor rather than paying off the collection agency. This works better in your favor.
3 – Decrease Credit Utilization
It always helps improve your credit score when you pay down your balances. Aim for under 30% of credit utilization. After that, try to get it to 10% or less. The lower your utilization, the better impact on your FICO score. Another simple way to boost your credit-to-usage ratio is to simply ask for a credit limit increase. This boosts our overall credit limit without spending a cent. For example, if your credit card has a $2000 limit and your balance is $700, your credit utilization is 35%. But, if you increase that limit to $3000 without spending any more on that card, your utilization falls to 23.3%. It never hurts to ask. Just make sure you continue to pay down the balance rather than incur more debt.
4 – Experian Boost
When your credit is limited or you find yourself on the cusp of the next best credit level, think about using Experian Boost to help you out. Experian Boost uses your excellent payment history with utility companies, phone companies, and even streaming services to help increase your credit score. It is free to use and only takes a few minutes to complete.
5 – Schedule Automatic Payments
Finally, set up an automatic payment system whenever possible. Your payment history makes up 35% of your credit score. Late payments seriously affect this part of your score. Never miss a payment again by scheduling them automatically through your credit card company, utility company, or lender. Some companies may even offer incentives like a reduced interest rate or a monthly credit on your account when you set up auto pay.
Dave & Pat Zumbrun, your Ventura County real estate specialists
How to Improve Your Credit Score in Five Easy Steps