The "Z" Team Featured Listings
Search Ventura Area Homes
Thanksgiving may be over, but the spirit of giving should never end. We only have 19 days until we celebrate Christmas Day. While you run around conducting your errands for Christmas dinner, add a few extra items to your grocery cart. Then, consider donating them to one of the Ventura food pantries. Your heart fills with joy when helping others. A couple of other ways to get you into the Christmas spirit could be going to see the Ventura Tree Lighting or watching the Parade of Lights.
Ventura Tree Lighting
This Friday, December 10th, Downtown Ventura lights up the Christmas tree located right outside of the Mission. Starting at 6 pm, gather 'round the tree. At dusk, they flip the switch on the lights. I hear that Santa promises to make an appearance around 7 pm. But he can only stay for an hour. He is a very busy man this time of year after all. And whoever said it never snows in Southern California may find themselves proven wrong. I believe Santa brings a bit of North Pole snow with him as well.
Ventura Harbor Parade of Lights
On the following weekend (December 17th and 18th), Ventura Harbor invites the public to join in some merry festivities. Starting at 4 pm each night, play fun carnival games and let the kids enjoy a few rides on the main lawn of Ventura Harbor Village. At 5:30 pm, watch the snow fall as LED performers light up the Harbor Village Promenade. At 6:30 pm, the Boat Parade of Lights begins, making two laps around Ventura Harbor. Then, as long as the weather holds out, guests will be treated to a fireworks display above the harbor at 8 pm. All events provided free of charge (as well as the parking).
Dave & Pat Zumbrun, your Ventura County real estate specialists
Ernest Hemingway once said, "there is no friend as loyal as a book." Books open the world up to everyone, no matter what their financial or geographical situation happens to be at the moment. Libraries help make these adventures available to everyone. To help clear out old inventory and raise money for programs provided by all of Ventura's libraries, come to the Ventura Bag o' Books Sale this Saturday, November 6th.
What: Ventura Bag o' Books Sale 2021
Where: EP Foster Library (651 E Main St)
When: Saturday, November 6th, 10 am to 3 pm
Contact: Ventura Friends of the Library via email
Ventura Bag o' Books Sale 2021
The Ventura Friends of the Library organized this special book sale as a fun way to help out the libraries as well as the public. Pick up some books to fill your home library up at the bargain-basement price of just $1 for three books. Or fill a paper shopping bag full of your favorite tomes to read at your leisure for just $4 for the entire bag. Friends of the Library members receive a $1 discount on the full bag price. So, pay just $3 for a whole bag of adventures.
Books will be available for sale either in front of the library or in the Topping Room. Also, feel free to visit the library's book store inside. In addition to the books, check out the watercolors and photographs for sale in the Topping Room as well. (Hint: they make great Christmas, birthday, anniversary, or hostess gifts this holiday season.)
Ventura Friends of the Library
The Ventura Friends of the Library helps local libraries provide services to the public. This includes buying necessary equipment and materials for the library, such as books, CDs, bookcases, etc. They also help fund year-round reading programs for kids and adults.
Dave & Pat Zumbrun, your Ventura County real estate specialists
In Ventura, you never worry about finding fun things to see and do. Of course, we saw fireworks shows all over Ventura County on July 4th. In August, we experienced a sort of revised Ventura County Fair with SummerFest 2021. Last month, the Ventura Art and Street Fair filled Ventura Harbor Village with beautiful artwork. This month, we celebrate all things "spooookkky" with the Seaside Skeleton Hunt.
What: Seaside Skeleton Hunt
Where: Ventura Harbor Village
When: October 30th & 31st, 2021
Contact: Ventura Harbor Village (805) 477-0470
Seaside Skeleton Hunt
Ventura Harbor Village hosts many family-friendly events throughout the year. October proves no exception. As part of the Halloween fun, they scheduled a skeleton hunt this month for all good little boils and ghouls. But these skeletons are not for scaring. Instead, they want you to flush them out of their hiding spaces and say hello. And the more skeletons you find, the better your chances become of winning a super Halloween prize pack from various vendors inside the Village. So, get out there and start this silly (weird?) game of hide-and-seek over Halloween weekend.
How to Play
Visit Ventura Harbor Village on October 30th and/or 31st. Keep your peepers open and on the lookout for skeletons hiding all over the village. Look all around the plaza, including the bushes and even the trash cans. When you find a skeleton, take a selfie with them. Upload the photos to your social media (Facebook, Instagram, Twitter). Make sure to include #SeasideSkeletons and tag @venturaharbor to ensure entry into their prize drawing. Also, make sure to set your social media profile to "public". Otherwise, event organizers will not see the post. Then, you miss your chance at a prize. Organizers encourage costume-wearing but do not require them. Just have fun! Good luck!
Dave & Pat Zumbrun, your Ventura County real estate specialists
Artists of all sorts thrive in our Ventura community. Steel Drum Saturdays and Live Music Sundays highlight the talents of local musicians. All March long, we celebrate Mermaid Month with artistic offerings in various mediums. Artistic craftsmen even showcase their wares at events like SummerFest 2021. Another fun way to support our local artisans is by coming to the Ventura Art and Street Festival 2021 on September 11th and 12th.
What: Ventura Art and Street Festival 2021
Where: Ventura Harbor
When: September 11th & 12th, 10 am to 5 pm
Admission: FREE
Contact: Ventura Art Festival (805) 650-9858 or via email
Ventura Art and Street Festival 2021
Painters. Sculptors. Ceramicists. Photographers. Glassmiths. Metal artists. Leatherworkers. Jewelers. All mediums of artwork can be found at the art and street festival in Ventura Harbor. Watch street artists create masterpieces before your very eyes. And all of the artwork you see at the festival will be available for purchase from the artist directly.
Encourage the artist in your child. Let them express themselves in the Children's Chalk Area. Spend $10 and your child receives their own box of colored chalk and a designated square on the sidewalk to sketch out whatever inspires them. The Boys and Girls Club of Ventura oversees the children's area.
Fundraiser
In addition to supporting local artists, the festival acts as a fundraiser for local charities. This year, funds go to FOOD Share of Ventura County, a member of Feeding America. Over the years, they distributed more than 26 million pounds of food to Ventura County residents in need. For a mere $10 donation, 30 people (men, women, and children) receive a warm meal. If you would like to donate your time or money, please visit the FOOD Share website today. Thank you!
Dave & Pat Zumbrun, your Ventura County real estate specialists
Firework shows on the 4th of July. Tequila and Tacos the weekend before last. We seem to have enjoyed a bit of a return to normal here in California lately. Unfortunately, the Delta variant of COVID-19 put mask mandates back in place for everyone when indoors. Sadly, officials canceled the annual Ventura County Fair this year. But, visitors may satisfy their "fair tooth" with the Ventura SummerFest 2021 Carnival instead.
What: Ventura SummerFest 2021
Where: Ventura Fairgrounds (10 W Harbor Blvd)
When: Aug 4th to Aug 15th, 3 pm to 10 pm Mon through Fri, 12 pm to 10 pm Sat & Sun
Admission: Free (tickets required for carnival rides)
Ventura SummerFest 2021
If we cannot enjoy the Ventura County Fair this year, at least we get the next best thing…SummerFest! Sure, the size of the fair we are used to will not be happening. No cattle auction or exhibits this year. And the big baking and crafts competitions will not take place either. But the heart of the fair lives on. Guests get to enjoy carnival rides and games as well as the amazing fair food usually reserved for things like the county fair. And that's what most of us go to the fair for anyway, right?
Ticket Info
Parking runs $15 per vehicle. But it costs you nothing to enter into SummerFest. If you wish to ride the carnival rides, you must pay for tickets. The amount of tickets required varies from ride to ride (anywhere from three to eight each). Tickets cost $1 each. Or you may purchase them in bulk at $20 for 24. But if you go to Kastl Amusements' online box office before midnight on August 3rd, you may purchase them at a huge discount of 40 ride tickets for just $25. You receive a 37.5% discount off the regular price of a ticket this way. That means more money for fair food! Yay!
Dave & Pat Zumbrun, your Ventura County real estate specialists
Summer weekends at Harbor Village fill up with music thanks to Steel Drum Saturdays and Summer Sundays. But if you want something a little more substantial to feed your soul (and your belly), visit the Ventura County Fairgrounds this weekend for the Tequila and Taco Music Festival 2021. There will be music. There will be tacos. And, of course, there will be tequila!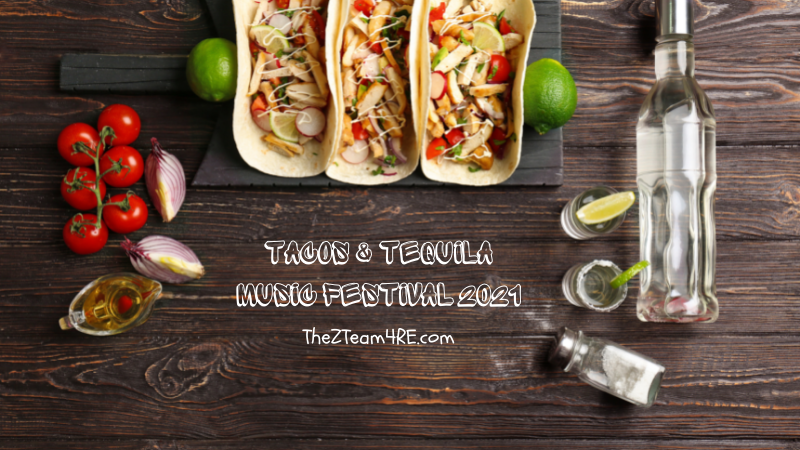 What: Tequila and Taco Music Festival 2021
Where: Ventura County Fairgrounds (10 E Harbor Blvd)
When: July 24th (1 pm to 9:30 pm) & July 25th (12 pm to 6:30 pm)
Admission: $20 per person or $35 for two
Tequila and Taco Music Festival 2021
Guests of the festival enjoy the chance to sample some of the best Top Shelf tequila around. Since you also need something in your belly to keep your spirits high while enjoying the alcohol, pair your tequila up with amazing gourmet street tacos. If you like your tequila in the form of margaritas, yes. Those will be made available to guests as well. Even if tequila or fruity margaritas are not to your liking, you will find beer vendors offering up craft beer, too. No one will be left out of the fun this weekend!
In addition to the tequila and tacos, arts and crafts vendors hawk their unique wares to guests. So make sure you visit vendor row. And no music festival will be complete without live music to keep things upbeat. Vanilla Ice, Tag Team, and Adelaide perform on Saturday. On Sunday, listen to bands perform their tributes to Latina artists, including the legendary Selena.
Ticket Info
You must be at least 21 years old with a valid photo ID to purchase and consume any alcohol on the premises. Tickets cost $17.50 each for General Admission each day. But, you can purchase the Margarita Experience. This provides you with entry for two people and two 12 oz margaritas in their own souvenir glasses. Kids ages 12 and under may enter free of charge. For more information, please visit the Tequila and Taco Music Festival's website here.
Dave & Pat Zumbrun, your Ventura County real estate specialists
Last month, Governor Newsom said that he expected to lift the mandatory mask mandate in California on June 15th (just eight days from today). However, he may require workers to continue to wear masks under certain circumstances. Fortunately, outdoor events appear to be OK. Last month's Open Air Seaside Market showed tremendous success. Starting later this month, Ventura Steel Drum Saturdays should also be a welcome treat for visitors to Ventura Harbor Village.
What: Ventura Steel Drum Saturdays 2021
Where: Ventura Harbor Village
When: 1 pm to 4 pm every Saturday from June 19th to Sept 4th
Admission: FREE
Contact: Ventura Harbor Village (805) 477-0470
Ventura Steel Drum Saturdays 2021
They say music calms the savage beast. Well, then, all savage beasts need to visit Ventura Harbor Village. Sip on a cocktail. Indulge in delicious a delicious lunch at one of several fantastic dining establishments. Relax with the sound of ocean waves in the background. Then, between 1 pm and 4 pm every Saturday from June 19th to Labor Day weekend, enjoy the lilting sounds of steel drums while you shop and/or dine. You may watch the drummer perform live by the Sugar Lab Bake Shop. But their music floats along the airwaves and can be heard all over the village.
Live Music Sundays This Summer
Come back to Ventura Harbor Village every Sunday between 1 pm and 4 pm for more live musical entertainment. It starts up on Sunday, June 20th, and continues through Labor Day weekend as well. The musicians perform on the Seaside Promenade Stage every Sunday afternoon. Each week brings a new musical act for you to enjoy. One week you will hear soft jazz. The next week brings classic rock and pop songs. After that, sway to the sounds of reggae and Caribbean tunes. So come back often to take advantage of everything Ventura Harbor Village has to offer.
Dave & Pat Zumbrun, your Ventura County real estate specialists
The CDC recently released their latest mask guidelines for fully vaccinated individuals. However, Governor Newsom has not released an update to California's mask guidelines as of yet. So, some businesses may require you to wear a mask when you enter. Even so, our beautiful sunny weather makes it a great time to be outdoors. And if you missed attending things like an open air market, the fairgrounds hosts the Ventura Open Air Seaside Market on the last two Sundays of May.
What: Ventura Open Air Seaside Market 2021
Where: Ventura Fairgrounds (10 W Harbor Blvd)
When: Sunday, May 23rd & 30th, from 10:30 am to 4 pm
Admission: Free (parking $10)
Contact: Ventura Fairgrounds (805) 648-3376
Ventura Open Air Seaside Market 2021
Graduation. Birthdays. Anniversaries. Father's Day. Just because. Or maybe just a little something for yourself. Looking for something unique to give your loved ones? Find something for everyone on your list at the Open Air Seaside Market this Sunday and next. Dozens of local artists and vendors showcase their handmade jewelry, artwork, crafts, and more at the market. Pick up something beautiful for your Ventura home. Find out how to create a gorgeous landscape to make your curb appeal pop. Discover how to make small changes to improve your life overall.
Music keeps everyone entertained throughout the afternoon. Choose something to eat from one of several food trucks on-site. Then, take your food to a shaded area to eat it in comfort. All guests must wear their masks while at the fairgrounds. The only exception is when you are eating or drinking.
Ventura Waterfront Chalk Art
The Open Air Seaside Market is one fun thing to do over Memorial weekend. Another family-friendly event you might want to attend is the Ventura Waterfront Chalk Art display at Ventura Harbor Village. From 12 pm to 5 pm on Saturday, May 29th, local artist Randall Williams creates an artistic masterpiece using only chalk on the sidewalk outside of Le Petit Cafe. Watch him work live as he memorializes those we lost while serving their country.
Dave & Pat Zumbrun, your Ventura County real estate specialists
This global pandemic forced companies to make some changes in order to stay in business. For restaurants, it meant upping their "take out" game and moving some tables outside. For shops, it meant limiting the number of patrons allowed inside and requiring masks. Entertainment venues felt a huge hit, with most of them forced to shut their doors indefinitely. Live music all but disappeared. Well, we are very happy to announce that CBF Productions found a way to bring back live music again. They created Ventura Concerts in Your Car.
What: Ventura Concerts in Your Car 2021
Where: Ventura County Fairgrounds
When: Every Saturday in April 2021
Admission: Varies per event
Ventura Concerts in Your Car
You know about drive-in movies, right? Well, starting next month, enjoy drive-in concerts courtesy of Ventura Concerts in Your Car. Live entertainment fills the concert stage every Saturday in April. Musical choices include everything from opera to reggae to EDM.
Ticket prices vary depending on which show you choose. And, instead of paying per seat, you pay per car (up to 4 people). Artists perform in a "theater-in-the-round" setting (a stage in the middle, rows radiating out from there). The closer to the stage, the pricier the tickets.
Entertainment Line-Up
Bring lawn chairs and a comfy blanket with you. These can be set up right next to your vehicle if you wish. A minimum six foot social distance will be enforced in between vehicles, based on CDC guidelines. You must wear a mask if walking outside of your designated location. Stay safe and have fun!
Dave & Pat Zumbrun, your Ventura County real estate specialists
March is Ventura Mermaid Month. Mermaids fill a special place in the hearts of those in Ventura Harbor Village. All month long, visitors enjoy a variety of fun mermaid-related activities as well as special discounts on merchandise and food. Of course, all businesses and activities follow COVID-19 guidelines to keep the public safe. So, no Mermaid Meet & Greet this year, unfortunately. But there are still plenty of other fun things to see, do, and shop for all month long.
What: Ventura Mermaid Month 2021
Where: Ventura Harbor Village
When: All month long in March
Ventura Mermaid Month 2021
Scheduled Activities
Ventura Boat Rentals recently released their newest swan boat "flock" out onto harbor waters…just in time for Mermaid Month. Rent yourself one of these fun little boats and paddle your way around the harbor. Keep an eye out for mermaids and mermen along the way. These boats only operate on Fridays, Saturdays, and Sundays. Schedule an appointment by calling (805) 642-7753 before all of the spots are taken.
Take a selfie at the special Mermaid Photo Booth set up by local artist Michelle Rogers. This lively backdrop will only be available in March, starting this Friday, the 5th. You can find it by the Barefoot Boutique.
For those of you who like to explore, try your luck at the Mermaid Scavenger Hunt. Starting on March 12th, visit VenturaHarborVillage.com to find your clues and to download your scavenger sheet. Decipher all of the clues by March 28th to complete your sheet. Then, turn your completed sheet into the Mermaid Gallery for a special mermaid prize.
Specials
Wild Local Seafood is hosting a contest for Mermaid Month. They challenge you to share your favorite recipes for homemade seafood dishes for a chance to win a $50 gift card at their store. Simply follow @VenturaHarbor and @wildlocalseafoodco on Facebook, Instagram, and/or Twitter. Then, upload your recipe (add a photo for bonus points). Make sure to tag Ventura Harbor and Wild Local Seafood when you do so you don't miss out on an entry. You also must tag two friends to qualify.
Several businesses offer fun discounts and special mermaid merchandise throughout March, too. When you visit The Greek, receive $5 off a seafood lunch entree when you purchase one at full price. Lost in Socks offers a 15% discount when you buy three pairs of socks any weekend in March. Receive a free swim bag when you purchase at least $50 in merchandise at Ventura Swimwear. Barefoot Boutique, Lemon & Lei, and the Treasure Cove all offer fun mermaid-inspired clothing, jewelry, and soaps.
Enjoy the outdoors this March. Visit the Harbor Village for Ventura Mermaid Month 2021.
Dave & Pat Zumbrun, your Ventura County real estate specialists